UNSW SMaRT Centre's Director, Professor Veena Sahajwalla, has won Good Design Australia's 2023 Women in Design Award.
Good Design Australia award story
Organisers said:
THE WOMEN IN DESIGN AWARD WAS ESTABLISHED IN RESPONSE TO THE SIGNIFICANT GENDER IMBALANCE WITHIN LEADERSHIP ROLES IN THE DESIGN INDUSTRY.
THE AWARD SEEKS TO RECOGNISE AND CELEBRATE WOMEN WHO HAVE MADE SIGNIFICANT CONTRIBUTIONS TO THE INDUSTRY AND ENCOURAGE MORE DIVERSE AND EQUAL REPRESENTATION ACROSS DESIGN AND CREATIVE SPACES.
The Australian Good Design Awards showcase the very best in design and innovation to a worldwide audience. Originally established in 1958 under the banner of the Industrial Design Council of Australia, the Awards have been setting the international standard for good design for more than six decades.
Recognised by the World Design Organization (WDO) as Australia's peak international design endorsement program, the Awards have a proud legacy of recognising, rewarding and celebrating the projects, people and brands behind great design.  
Renowned for her sustainable engineering innovations and significant contributions to a waste-free world, Professor Veena Sahajwalla has aptly earned the sobriquet "eco-alchemist". Throughout her storied career, she has reimagined what our society sees as waste, working closely with industry to solidify recycling processes that see environmental, economical and communities priorities in perfect balance.
Beginning her journey in Mumbai, India, Veena has pioneered the face of "green manufacturing" across the world, first in Canada and now in Australia, where she serves as the founding Director of the Centre for Sustainable Materials Research & Technology (SMaRT) at UNSW. 
More than 380 peer-reviewed papers underline her trail-blazing legacy, as do multiple transformational projects and models. Her time at the SMaRT Centre steered the development of Green Steel – green alloys produced using end-of-life-plastics instead of coking coal – and the invention of the micro-factory model – small-scale factories that enable global communities to produce essential products, materials and resources from local waste. She has also launched a mentoring program for women in science called Science 50:50.
Veena was elected as Fellow of the Australian Institution of Engineers Australia in 2005, followed shortly after by her election as a Fellow of the Australian Academy of Technological Sciences and Engineering in 2007. In 2014, she was awarded an ARC Australian Laureate Fellowship and in 2016, named one of Australia's Most Innovative Engineers by Engineers Australia. Throughout all of this, Veena has made regular appearances as a judge on the long-running ABC TV series The New Inventors and has spoken at numerous prestigious summits worldwide.
This year, Veena has been awarded the Women in Design Award as part of the 2023 Australian Good Design Awards. Good Design Australia were lucky enough to catch up with Veena ahead of the year's Awards Ceremony.
Good Design Australia: An "eco-alchemist" is what you're affectionately referred to as. What was it that inspired you to see mountains of rubbish and waste materials in our society is more than just that? What kickstarted this alchemy journey?  
Veena Sahajwalla: I guess it makes me go back and reflect on how I've always looked at any kind of material. I've got to the point where I'm fixated, always looking at things on the streets when people throw stuff out. They're throwing it away as rubbish! But sometimes we need to slow down a bit and think about all these things that we're calling waste. It's not really waste, it's a product – it's things that were used in a home or elsewhere.
Part of that is also a reflection on the fact that we put a lot of energy and effort into making things. All of it has value, even a simple item of clothing or a pair of shoes, and it's important to look at the many different ways in which we can do the right thing with it, whether it's to purchase something in the first place, or find a new home for a product that we no longer need. 
Sometimes, we all get super busy, so it's just easy to kind of throw things out, but I think that extra effort does make a difference to people's lives. It's why it's important to reflect on how we can make a difference at an individual level, but then also, as an engineer myself, look at materials, not as something that's a waste, but as something that's a resource that can have life that continues over and over again. 
GDA: Looking at your contributions to a waste-free world and commitment to circular design and engineering innovations, how do you balance the "green" with the economic side of things?
VS: We have to be able to think in a holistic manner. It's about the balance between what is good for the environment and what's good for the economy. We've got to think about the longer term impact on our planet. If we just go down the path of making something cheap and think, "well, that's the only way we're going to create more jobs", you're missing out on opportunities. There is so much potential for innovations that can create completely different jobs that have not existed before. We can build a whole new economy that's built on circularity, all while thinking about the practical side of creating local and regional solutions. 
If you think about a situation where a little town has no access to, say, infrastructure, or tiles for their homes, study tables for their classrooms, the regular train of thought is that the only option is to get in from a long distance. But what if you could turn that upside down and start to think about how you could support local jobs and local economies with things manufactured right there from the waste that they produce? Of course, they still need to be durable, fit for purpose and aesthetically pleasing, but the material element of the supply chain can be sorted with resources that would have otherwise ended up in landfill. 
That's exactly what we're doing with one of our industry partners, in a regional town in New South Wales, where we are bringing in all these waste resources like glass and textiles and putting that back into production to create ceramic tiles. We're then shifting our mindset to understand that, just because something has reached the end of life in one application, it doesn't mean that we can't bring that back to life in a new application. If we can keep doing that, then we can create good outcomes for our economy, environment and for people.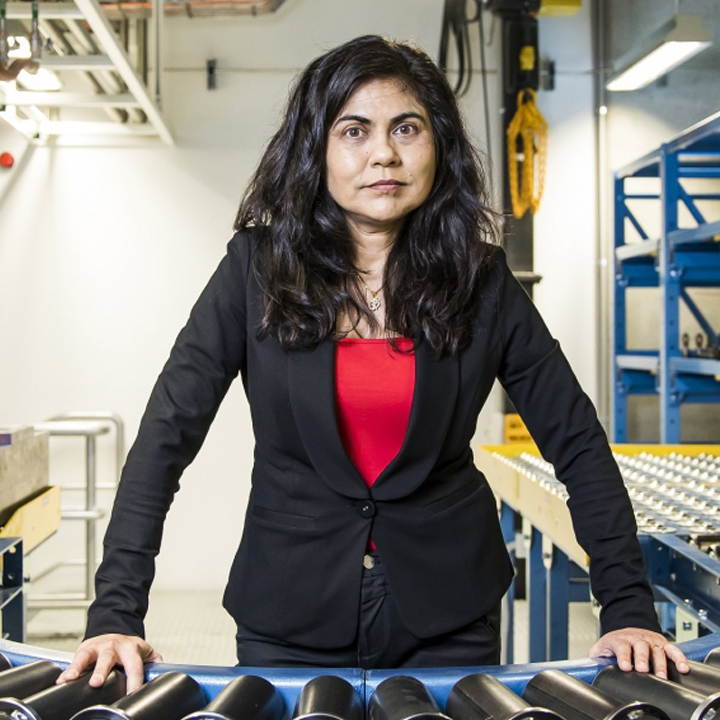 Scientia Professor Veena Sahajwalla – engineer, inventor and recipient of the 2023 Women in Design Award
GDA: A lot of your work is a very hands-on, practical and physical kind of engineering. How important is genuinely understanding how to work, physically, with the materials and processes as you design and innovate?
VS: Extremely important. It's not very impactful going, 'I've developed this concept in my head, now I'm going to let somebody else worry about the implementation'. The ideas and the doing have to go hand in hand, because it's always a complex process of ensuring that a way of thinking is actually practical or manufacturable.
It's important to understand the whole system of thinking around supply chains, the viability of the materials and the way it's manufactured. This ensures those raw ideas can create true transformations. It may well be that it might not work in the first go, in fact, more than likely, that's not going to be the case at all. So, it's all about that iterative process, the testing – the whole hands-on journey.
GDA: Mentorship is a massive part of instilling this theoretical and practical knowledge, and it's something you're very involved in. Tell us a bit about the Science 50:50 mentoring programme and your hopes for non-male identifying innovators looking into the future.
VS: One of the things I really love about the work that I do is that it's such an emotive thing to be involved at that practical level. It doesn't matter what your discipline is, what experiences you've had in life or what part of the world you've come from, there's just this innate part of us in this field that wants to do good. We all want to make a contribution, but when you listen to stories that say that engineering is such a male-dominated area and people steer clear – that's not what I want.
So I do feel that it's important to engage young people who are still thinking about what they want to do in their lives, what they want to study. Young people don't have to decide right at the start that they want to be an engineer, or a scientist, or an architect, so we wanted to give them an opportunity to explore what they were passionate and excited about. We're on our way towards inspiring future generations that are going to look towards this field of work as a cool way to play a part in making a really positive impact on our planet – whoever they are.
GDA: What does winning the Women in Design Award mean to you?
VS: There are so many women in Australia and the world who do amazing work. We are really privileged that we have so many incredible women who are so passionate about the kind of work they do and about caring for our people and our planet. I just feel really humbled that I'm considered in the mix of these incredible women.
It wouldn't have been possible without the support of the SMaRT Centre at UNSW, so I'd love to appreciate the important role it's played in this journey. If it weren't for the ability to set up a micro-factory at UNSW, we wouldn't have taken that step to the lab, to piloting and into real world applications. I think we need to also reflect on the fact that, when research happens in the lab environment, all the backing comes from the environment that supports you. 
It doesn't matter what career path you follow, as long as you're pursuing your passion. Just know that Australian universities, industries and businesses can offer you real-world experience, and that's a real privilege. Making a positive impact and contribution to our planet starts right here in Australia. This Award is all part of that.